WHAT IS FOIL?
Foil stamping is similar to letterpress, but instead of using ink, sheets of shiny foil are pressed into the paper using heat and pressure. There is slightly less impression, but the result is a design that shimmers and shines.
CAN I ADD FOIL TO HOUSE DESIGNS?
Any of our suites can be personalized with the addition of one or more of our foil colors!
We can also combine letterpress inks with foil in your design if you would like to pair a matte ink with a little shine.
HOW DO I ADD FOIL TO MY ORDER?
When filling out our order form, to add foil, just select the "Foil Upgrade" option next to where you choose your ink colors and then select the foil color you would like to use from the drop down menu.
You will have the option to add foil to all of the cards you order, or just some of them. When filling out the form, make sure to repeat the process for any card you would like printed with foil.
If you are just testing the waters and filling out our inquiry instead of the order form, you can select the foil addition the same way, but you won't need to specify which cards you would like to add it to - that will come later after you connect with your stylist!
Get Started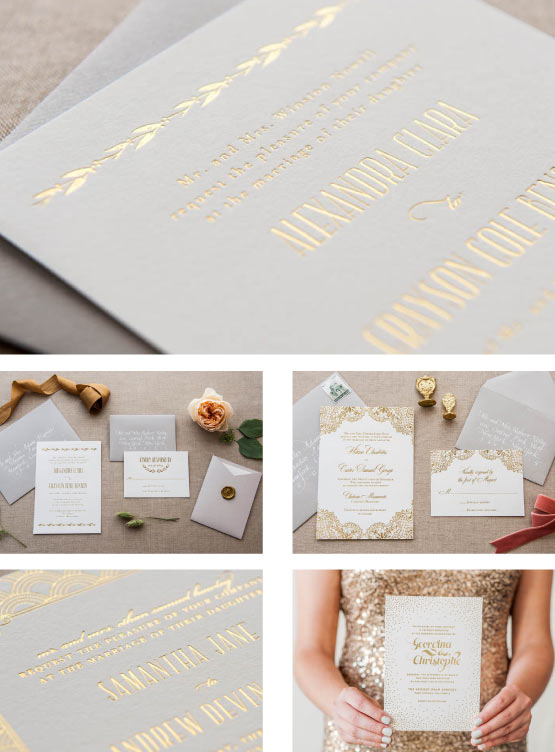 Foil Color Options
We offer 5 lovely foil options to personalize you design with:

DOES FOIL COST MORE?
Due to the higher materials cost (we print from real copper plates!) and extra time involved in printing a foil order, the foil price is a bit higher than the cost for letterpress.
When ordering, the online calculator will add this in for you, so you can get a sense of how including foil will affect the price. You can also visit our pricing page HERE to see the cost of adding foil for a range of different cards and quantities.
There is no added charge for foiling large designs vs. small ones - the price is always the same, regardless of the design you choose.
SAMPLES
We are happy to send you swatches of our foil colors so you can fall in love with them in person! We automatically include our foil colors with every sample set we send, so there's no need to specify when placing your sample order.
Order Samples