The paper prettiness doesn't have to end when that envelope leaves your hands and is opened up by your guests! We think that as the first impression guests receive of your wedding, lovely paper should also be one of their last. We love working with our couples to create just the right menus, programs, welcome books, table numbers, signage, place and escort cards to complete the paper vision for their celebration.
Below are some of the different services we offer for paper goods on the day of your wedding.
Start Order!
Menus
Menus are one of the most common day of pieces our couples order for their celebration. All of our house collection suites have a pre-designed menu viewable in the pdf download on each suite page. Menus can also be customized with guest names to act as place cards and can be either letterpress or digitally printed.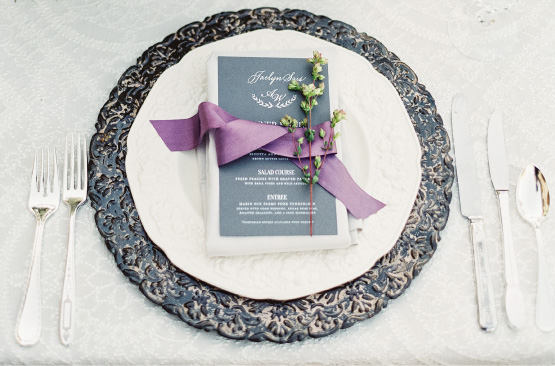 photo by michelle beckwith
PLACE & ESCORT CARDS
Along with the menus, place and escort cards are another wedding day essential that we love to print for our couples. While these cards may seem interchangeable, place and escort cards are not the same! Escort cards are printed or calligraphied with the guest or couples' names and the table number and are used to designate where the guest(s) will be seated for the reception. Place cards are printed or calligraphied with individual guest names and are situated at each place setting to show guests which seat to sit in at the table they are assigned to for the reception. Place cards can also be personalized with meal choice indicators for plated dinner services where wait staff need to know which guest will receive which entrée. Entrée choice can be indicated with a small animal icon, different color printings, or by using a selection of uniquely shaped flourishes, for a more subtle indicator.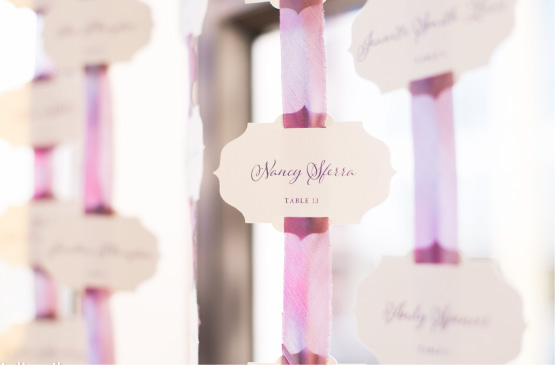 photo by julie mikos
Both place and escort cards can be digitally printed or calligraphied. Unfortunately, due to the nature of an older print method, we can't letterpress print them. Not interested in digitally printed cards? We partner with an incredibly talented calligrapher and are happy to coordinate calligraphy for you. Place and escort cards can also be letterpress printed prior to calligraphy with illustrations or design elements to coordinate with your invitation suite.
In lieu of individual escort cards, we are also happy to print large scale seating charts, up to 24x36'' in size.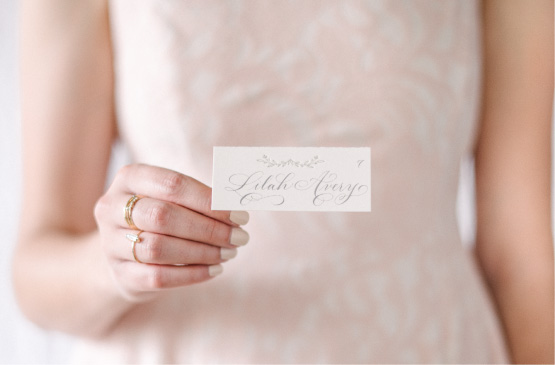 photo by melanie duerkopp
TABLE NUMBERS
We offer both digitally printed and calligraphied table numbers in any quantity. We are happy to customize the size to fit frames or stands and can print either double or single sided cards. We are also happy to print table designators as names instead of numbers in case you want to get a little creative! Some of our favorite ways to name tables? After favorite cities to vacation in, wine varieties, meaningful dates, or coordinates for special landmarks.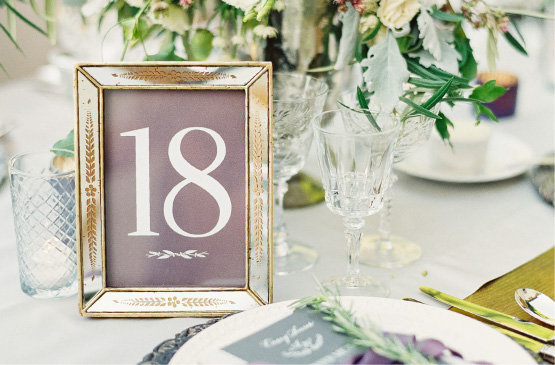 photo by michelle beckwith
DIGITAL, SINGLE PAGE PROGRAMS
DIGITAL, SINGLE PAGE PROGRAMS
Digital programs can be printed several different ways. The most basic digital program type we offer is a single page program, up to 5.5x8.5'' in size. Single page programs are ideal for smaller wedding parties and shorter ceremonies. Longer and many religious ceremonies usually require a little more space and may not be well-suited to this program style. Single-page programs can also be printed double-sided, if needed.
LETTERPRESS, SINGLE PAGE PROGRAMS
For letterpress programs, we only offer the single page option. Like the single page digital programs, letterpress programs are best suited for smaller wedding parties and shorter ceremonies. The maximum print size for letterpress programs is 5.5x8.5''.
SIMPLE BOOKLET PROGRAMS, NO BINDING
Simple, folded booklet programs are perfect for longer or religious wedding ceremonies. These types of programs are digitally printed and double sided with a crease so they open as a simple folded book.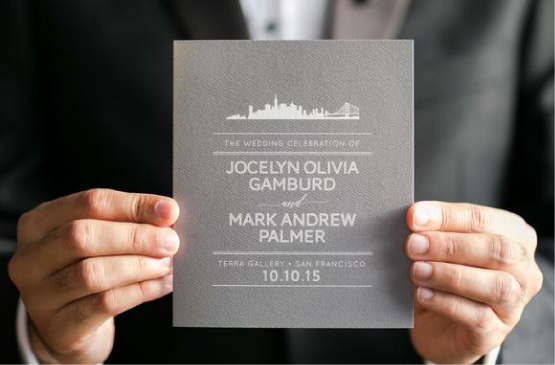 photo by sabine scherer
BOOKLET PROGRAMS WITH RIBBON BINDING
Booklet programs with ribbon bindings are our favorite kind of program to create. Bound booklet programs usually have a thicker letterpress cover, digitally printed inner pages and small holes drilled along the crease to thread ribbon through for binding. Our stylists love working with our couples to source just the right ribbon and our team are experts in perfect bow and knot tying for the prettiest of finishing touches.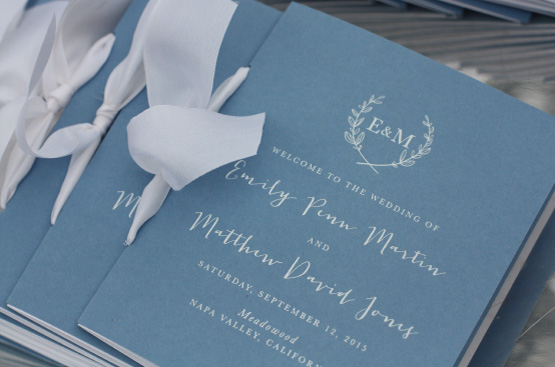 photo by downy steet events
WELCOME BASKETS
For our destination couples and for weddings with a large number of guests traveling from great distances, we love to offer welcome bag paper goods. Welcome bags or baskets are typically left with the hotels where guests will be staying to be given to them at check-in. Welcome baskets can include local treats, bottles of water or wine, small gifts meaningful to the couple or connected to the wedding location, hangover remedies, basic essentials guests may have forgotten to bring like wet wipes, mouthwash or pashminas for colder weather areas. In terms of paper goods, welcome baskets can include itinerary cards, maps, tags, stickers/labels and welcome letters. Our design stylists are happy to provide guidance on wording and style for any cards you may want to include as welcome collateral for your guests.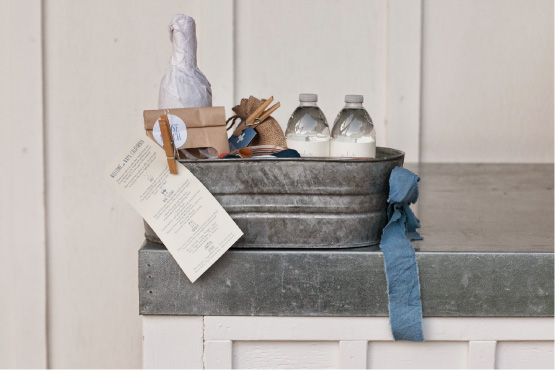 photo by julie mikos
SIGNAGE
Wedding celebrations are usually multi-faceted affairs with many moving parts, sometimes several locations or stages and lots of excitement! Sometimes, signage helps keep the flow of the wedding continuous and smooth and can provide important information to guests. But, just because wedding signage has a utilitarian function, doesn't mean it can't be beautiful! That's where we like to work our magic. We are happy to create lovely cards to complete your day and help it run a little more smoothly. Below is a brief list of some of the sign options we print:
Bar menus, dessert menus, favor tags, reserved signs, directional signs, guest book signs, seating charts, and any other cards you can dream up!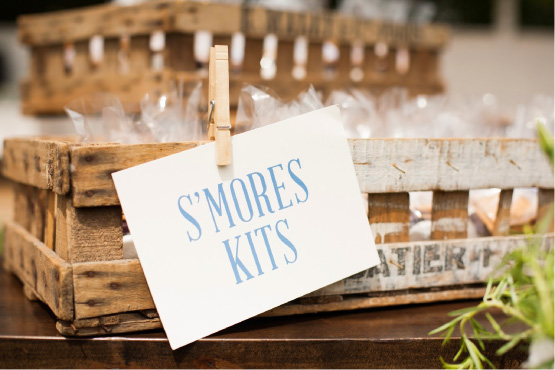 photo by julie mikos