While we are, first and foremost, lovers of love, oglers of beauty, and die-hards for great design, we are also sticklers for punctuation and stalwarts for manners. We believe in knowing the rules and when to break them and we're convinced that good manners never go out of style, kind of like a great LBD. In essence, in addition to being great with design and printing, we are also your go-tos for everything etiquette and our paper stylists are happy to answer any etiquette-related question you can think of.
We know that while selecting the perfect invitation design and deciding on a stunning color palette totally gives you butterflies, the ins and outs of how to word an invitation suite probably don't give you the same happy feelings. To make it a little easier on our engaged couples, we created an easy to use guide to serve as inspiration when deciding how to word your suite. Our guide breaks down the anatomy of each card, offers tips and tricks and includes tons of wording examples for every possible scenario. Not seeing what you need? Your paper stylist is happy to guide you.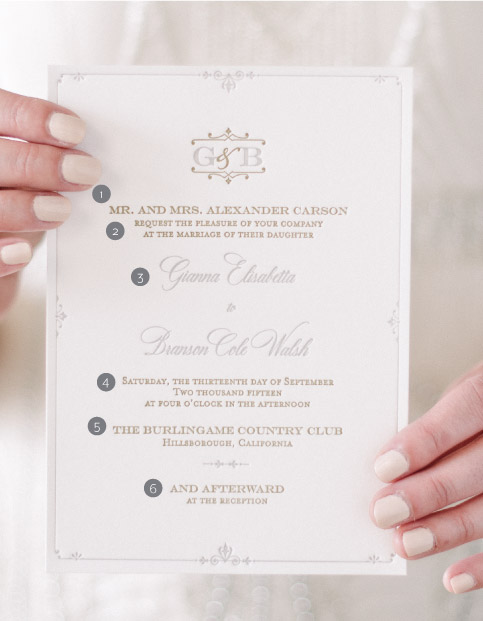 1 | HOST LINE
This is the line that typically denotes who is hosting, or paying for the bulk of the wedding. Traditionally, this was the bride's parents. However, it is increasingly more common for couples to pay for their weddings themselves, or for the bride and groom's parents to equally share in the cost. Other factors, such as whether the host(s) are married, divorced or remarried will also affect how this portion of the invitation is worded. See below for specific wording options.
2 | REQUEST LINES
The request line usually indicates where the wedding will be held. Honour of your presence: (honour spelled in the British-style with a U) indicates a ceremony held in a house of worship / The pleasure of your company: indicates the ceremony is taking place at a secular location. When both sets of the couple's parents are hosting, this line would specify "at the marriage of their children."
3 | BRIDE & GROOM LINES
The bride always precedes the groom. If her parents are hosting then she will be referred to by her first and middle names only. The groom is referred to by his first, middle and last name.
4 | DATE & TIME LINES
The day of the week usually preceeds the date. Only the day of the week and the month are capitalized. Everything is written out in full, numbers are not used. Traditionally the first letter of the year is capitalized. No portion of the time line is ever capitalized. Time of day is spelled out using o'clock or half after xx o'clock. Evening begins at five o'clock, otherwise it is considered afternoon from noon until four o'clock.
5 | LOCATION LINES
The street address is not usually necessary, unless the event is taking place at a private home or unlisted address. If it is included, street/avenue/road should be written out in full. City and state should always be written out with no abbreviations.
6 | RECEPTION LINES
Especially formal or traditional invitations include this information on a separate card. Otherwise, the reception information can be included on the invitation if there is room. If the ceremony and reception will take place at the same location, you may print "and afterward at the reception" or "reception immediately following." When the reception is held elsewhere, the location goes on a second line.
NOTE ABOUT CAPITALIZATION
Aside from proper nouns, only the day of the week, month and first letter of the year should be capitalized. More often, the first letter of the reception line is also being capitalized, though traditionally it is not.