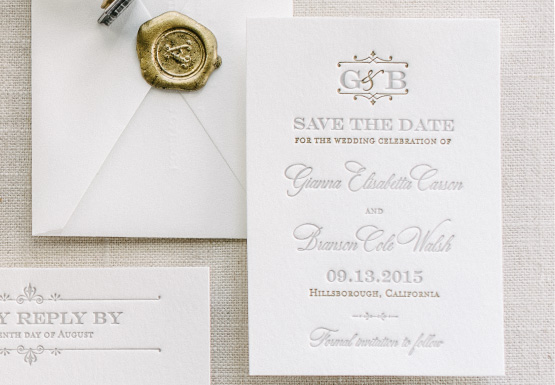 photo by melanie duerkopp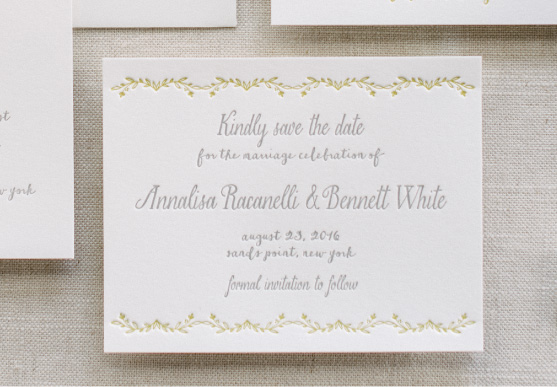 photo by melanie duerkopp
SAVE THE DATE LANGUAGE
There are several ways to request that guests save your date on their calendars and begin making plans to attend. They range from traditional and formal to fun and playful. Here are some of the most common:
FORMAL/TRADITIONAL: Save the date for the wedding of...
FORMAL/TRADITIONAL: Kindly save the date for the marriage celebration of...
MOST COMMON: Save the date, xxx and xxx are getting married
LESS FORMAL: Save the date, xxx and xxx are tying the knot!
DO INCLUDE
There are a few other elements that every good save the date includes. There are the obvious ones: your names (first middle AND last for more formal weddings), the date (duh!), and the location (just city and state). It is also a good idea to include a wedding website link on this card, so guests can find additional details, especially if it is a destination affair. Finally, a line noting, "formal invitation to follow," is also a traditional way to end the card and let guests know that they should expect to receive an actual invitation soon.
Information about accommodations can also be included on the save the date when it is necessary for guests to book rooms from a room block early, or when most of the guests will be traveling. If you are having a destination wedding, either include these details with the save the date, or let guests know they can find it on your website.
TIMING
When to send out save the dates is one of the questions we are asked most often! For most weddings, 6-8 months in advance of the wedding date is most common. For destination weddings, a little extra time is always a good idea, 8-10 months is the ideal range.