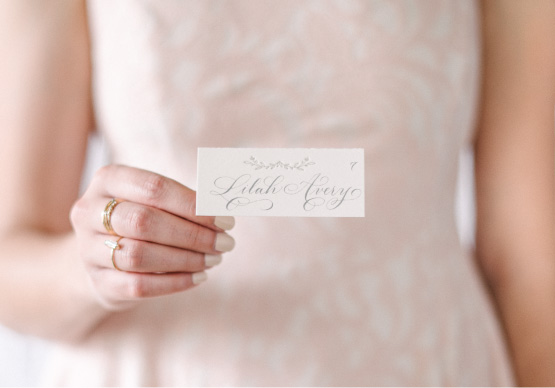 photo by melanie duerkopp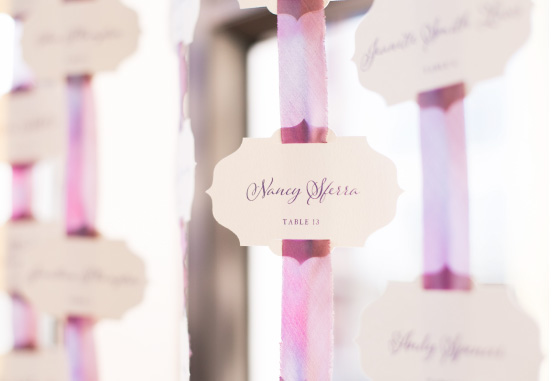 photo by melanie duerkopp
PLACE CARDS VS. ESCORT CARDS
Place and escort cards sound the same, and couples, planners and other wedding pros are occasionally guilty of using the words interchangeably, but they actually serve two completely different purposes.
Escort cards are used to indicate which table a guest is assigned to. Escorts are usually displayed at the entrance to the reception and will have a Table No. line on each one. Seating charts can also be used for the same purpose.
Place cards are set at the tables and indicate which seat each guest is supposed to sit in. They do not include the table number, but they can occasionally include an entrée indicator for the waitstaff to alert them to which dinner option each guest pre-selected. Place cards are a traditional option, but many guests opt to forgo them and encourage guests to sit where they feel most comfortable at their designated table.
COUPLES VS. INDIVIDUALS
For escort cards, there are two options for your guests' names: listing each guest individually on their own card, or listing couples and families together on the same card. Both are correct and common practice, however, listing couples together is a more traditional style. Listing couples on the same card also has the added benefit of necessitating fewer cards, which can save space and lower the cost for the entire set, a more imporatant consideration for weddings with larger guest lists.
CALLIGRAPHY VS. DIGITAL
There are two main options for the execution of place and escort cards: 1) calligraphy and 2) digital printing. If you opt to have a calligrapher add names and table numbers to your cards, you have the option of having them letterpress printed with a design element in advance. If you choose digital printing, guest names, table numbers and design graphics can all be printed together at one time. Digital printing is also the speedier option.